Board of Education Meeting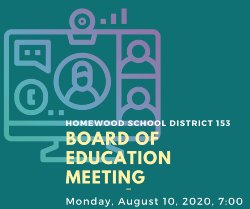 What

Board of Education Meeting

When

8/10/2020, 7:00 PM

Where

JH Media Center and Zoom
The Board of Education will hold its monthly meeting IN PERSON on Monday, August 10, 2020 at 7:00 PM. NOTE: Visitors will be limited to 25 persons and will be admitted on a first come, first served basis. Masks are required. A temperature reading will be taken prior to entry. Enter through Door J at the north end of James Hart School outside of the Media Center.
The public is invited to submit questions and/or comments for the school board prior to the meeting via an online form. That form will be available in the "Recent News" section of our homepage ( HSD153.org) from 3:00-6:00 PM on Monday.
Click the link below for meeting agenda.
Copy to Google Calendar
•
Download iCal Event