Willow School Meet the Teacher/Material Distribution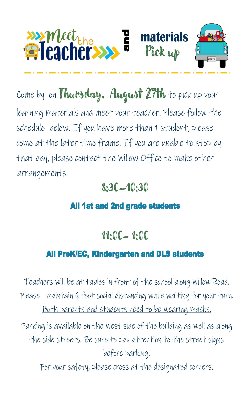 What

Willow School Meet the Teacher/Material Distribution

When

8/27/2020

Where

Willow School
Come by on Thursday, August 27th to pick up your learning materials and meet your teacher. Please follow the schedule below. If you have more than 1 student, please come at the later time frame. If you are unable to stop by that day, please contact the Willow Office to make other arrangements.
8:30—10:30
All 1st and 2nd grade students
11:00– 1:00
All PreK/EC, Kindergarten and DLS students arrangements.
Teachers will be at tables in front of the school along Willow Road. Please maintain 6 foot social distancing while waiting for your turn. Both parents and students need to be wearing masks.
Parking is available on the West side of the building as well as along the side streets. Be sure to pay attention to the street signs before parking.For your safety, please cross at the designated corners.
Copy to Google Calendar
•
Download iCal Event