Willow School Orientation Day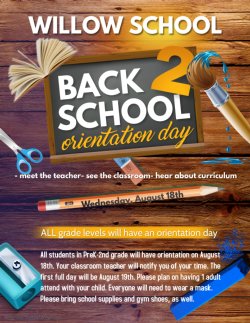 What

Willow School Orientation Day

When

8/18/2021

Where

Willow School
August 18th, normally the first day of school, will be an orientation day for all students.
With so many of our student never having been in the building, we wanted a chance for their first encounter to be with a favorite adult by his/her side.

Your child's teacher will reach out and schedule a time for your child and 1 adult to come in.
Both adults and students will need to wear masks while in the building.

Please bring school supplies with you that day, as well as gym shoes and any other paperwork you might need to turn in.


Copy to Google Calendar
•
Download iCal Event