PTA Fall General Meeting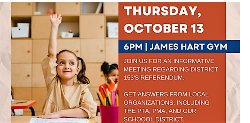 What

PTA Fall General Meeting

When

10/13/2022, 6:00 PM

Where

James Hart Gym, Enter HF Sports Complex doors, 18211 Aberdeen St.
Homewood PTA is holding its Fall General Meeting on Thursday, October 13th at 6pm in the James Hart Gym. Dr. Scott McAlister and school board representatives will be giving a presentation on the District 153 referendum and answering questions. The PTA will be holding an election for Treasurer and approving the annual budget. We will also have PTA, PMA and Foundation 153 representatives present to answer questions about their organizations. All Homewood School District 153 Community members are invited. We hope to see you there!
Please visit the link below if you're interested in attending.
Homewood PTA Fall General Meeting and District 153 Referendum Presentation Invitation
Copy to Google Calendar
•
Download iCal Event